Don't Let the Green Grass Fool you: A Siblings Memoir About Legendary Soul Singer Wilson Pickett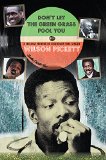 "Louella Pickett-New was legendary soul singer Wilson Pickett's sister no. 4, to whom he gave the nickname "Lucy Coot" and mostly called just "Coot" throughout his life. She lived with him in New York City as a teenager during the 1960s when he was at the peak of his fame. He threw her a sweet sixteen party. She tried in vain to teach him to dance. She's the "Little Lucy Doin' the Watusi" in his hit song "Land of a Thousand Dances." In this book, named after another of his hits, a beloved .little sister pays tribute to her famous big brother.
Merging her own memories with those of the rest of their siblings as well as others who were close to him, Louella paints a portrait of the complex and wounded man behind the powerful and powerfully expressive voice that sang "In the Midnight Hour" and so many more enduring soul classics.
Louella is married to Emmett New, and they have two adult children, Katina and Dominic. They reside in Stone
More…
Best Price: Own it!
Related Wilson Pickett Products
---
You might also like