Louisville's Germantown and Schnitzelburg, Historic Photos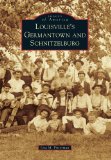 Believed to have been named for the citizens who settled the area as early as the 1840s, Germantown and Schnitzelburg are located just east of downtown Louisville. The first parcels purchased and settled were part of the 1,000-acre land grant that was awarded to Col. Arthur Campbell in 1790 for his service to Virginia in the Indian Wars.
Spanning more than 160 years of growth, the area developed from farms and dairies in the 1850s, to the industrialization of the 1880s, and then the halcyon era of the 1950s as a safe haven of family, community, and church.
Remarkable historic landmarks include a Victorian-era cotton mill, DuPont Manual High School's football stadium, and the eclectic collection of residential architecture classified as "shotgun" and "camelback." Numerous neighborhood taverns and bakeries are both historic landmarks and popular eateries in this community. Look inside and enjoy the history and beauty of a bygone era and the development of a thriving community.
More…
List Price: $ 21.99
Best Price: $ 10.63 Own it!
---
You might also like