Kentucky Footnotes by Byron Crawford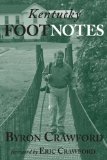 Kentucky Footnotes is Byron Crawford's third compilation of columns originally published by The Courier-Journal, where he served as the newspaper s Kentucky Columnist for nearly three decades.
His first two books, Crawford's Journal, published in 1986, and Kentucky Stories, in 1994, have sold thousands of copies and remain popular among lovers of Kentucky lore.
The San Francisco Chronicle once described Byron as The Courier-Journal's muddy shoes reporter, and the late Charles Kuralt of CBS News proclaimed him the best storyteller in Kentucky, if you count only the ones who tell the truth. In Kentucky Footnotes, readers will find a memorable collection of some of the stories that helped make this Hall of Fame journalist among the most widely-read writers at The Courier-Journal.
More…
List Price: $ 24.95
Best Price: $ 24.89 Own it!
---
You might also like