King Louis XVI of France
The guy whose Frenchness causes the silent "S" in "Louisville"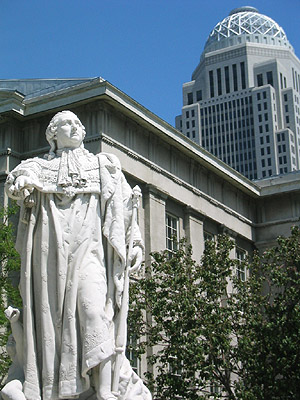 The statue of King Louis ("Loo-ee") the 16th of France that stands outside the Jefferson County Courthouse in downtown Louisville turned 175 years old in 2004 and marks its 40th year in Louisville in 2007.
This marble representation of Louisville's namesake was commissioned by the king's daughter, Marie-Therese, and originally unveiled in the 1820's in Montpellier, France, 36 years after his beheading.
Marie-Therese was the offspring of King Louis XVI of France and Marie-Antoinette of Austria, who had married to combine their empires. Their relationship is the subject of the recent Sofia Coppola film "Marie Antoinette."
The statue, at 12 feet tall and weighing 9 tons, came to Louisville in 1967 as a gift of Montpellier Mayor Francois Delmas, after spending more than half a century in storage (that is, the statue was in storage, not Mayor Delmas). Louisville and Montpellier had become sister cities about eleven years earlier, and the then-138-year-old Achille-Joseph Valois sculpture was presented to Louisville Mayor Kenneth Schmied as a gift of friendship between the two cities.
King Louis XVI is not considered a bright man by historians. Nonetheless, his help was instrumental in the American Revolution. In 1778 he reached a deal with Ben Franklin to send assistance to the fledgling United States. That backing, in the form of supplies and soldiers, helped secure America's independence.
One form of thanks given to Louis that same year was the naming of a Virginia settlement in his honor. The town of Louisville ("Loo-ee-vill") was officially chartered by the Virginia Legislature in 1780, and became part of Kentucky upon the commonwealth's statehood in 1797.
Unfortunately, the exorbitant outlays for which the Americans were so grateful did not get the same response in France, and contributed to the severe financial problems Louis was facing at home.
When reforms swept through the French government in the late 1780's, Louis supported the changes, but things moved too quickly for him to keep up. He and his family were caught in the crossfire and tried to escape the country in 1791. They were captured and confined to their homes while the interim French government convicted Louis of conspiracy and cut his head off. His second son Louis-Charles de France, duc de Normandie, ascended to the throne, becoming King Louis the 17th.
Louis the 16th's younger brothers also became king after the French Revolution, Louis the 18th, and Charles the 10th.
Our statue of Louis XVI here in Louisville holds a unique status as one of a man for whom a US city was named, coming from a French city where it had been commissioned by the man's daughter. And Louisville holds a unique status as one of the few cities in the world named for an executed criminal.