L&N 152 The Pride of Kentucky DVD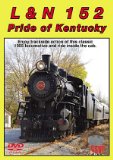 Travel to the bluegrass state of Kentucky to see Louisville & Nashville 4-6-2 in action on the Kentucky Railway Museums ex-L&N trackage between New Haven and Boston. L&N 4-6-2 152 was built in 1905 so it's over 100 years old now. But she still looks good and has the well proportioned look of a modern steam engine, and of course puts on a nice show on the Kentucky Railway Museum's former Louisville & Nashville trackage from New Haven to Boston. In this DVD we'll see the 152 from trackside and from the cab.
We begin with morning activities as 152 readies the train and pulls up to the depot. Then we capture some of the best locations on the route as 152 pulls 2 trips with 6 coaches, and an evening trip with 3 coaches. In between we will see them run-around the train at Boston to set-up the return trip. The following day we ride the cab of 152 seated right behind the engineer as we head out of New Haven with another 6 car train. There are several slow orders and each time we cha
More…
List Price: $ 24.95
Best Price: $ 20.95 Own it!
Related Louisville Kentucky Products
---
You might also like