Louisville Baseball Almanac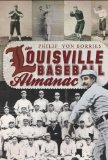 Though long associated with fine bourbons, riverboats and champion Thoroughbreds, Louisville, Kentucky, is home to another icon–the Louisville slugger. The Louisville Baseball Almanac presents the first-ever comprehensive look at the rich history of professional teams, ballplayers and managers, a history that runs deep within the city.
Originally a major-league city that won a pennant in 1890, the early Louisville teams gave rise to a host of legends and eccentrics, in equal measure. And ever since, Louisville has maintained a strong position in baseball history as a top-flight minor league city. Red Sox, Yankee, Dodger, Reds and Cardinals fans–aseball fans!–have Louisville to thank for launching the careers of some of the game's most memorable players.
Louisville baseball historian Philip Von Borries recounts the breadth of Louisville's ballplaying heritage, his text complemented by numerous vintage photographs.
More…
List Price: $ 24.99
Best Price: $ 13.50 Own it!
---
You might also like