Louisville Postcard History Series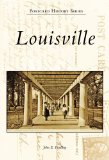 Founded in 1778 as a portage point on the lower Ohio River, Louisville was closely tied to river commerce for a century.
In the 1880s, the Southern Exposition and the growth of the Louisville and Nashville Railroad did much to establish the city as an important commercial link between the North and South.
By 1900, Louisville was the 18th largest city in America, with a population of just over 200,000. The city had a vibrant downtown with elegant office buildings and hotels and one of the finest park systems in the country, designed by the Olmsted brothers in the 1890s.
In Louisville, more than 200 postcards present a visual record of the institutions, prosperity, and charm of the river city.
More…
List Price: $ 21.99
Best Price: $ 10.65 Own it!
Find More Louisville History Products
---
You might also like