Historic Photographs of Louisville's Butchertown Neighborhood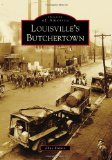 Located just east of downtown Louisville, Butchertown is a fascinating mix of architectural styles, businesses, and history. The neighborhood is named for the early Louisville butchers who found the area's strategic location on Beargrass Creek and its proximity to the Frankfort and Shelbyville turnpikes ideal for their operations.
The link to butchers was further solidified when the Bourbon House, later called the Bourbon Stock Yard, was established in 1834, anchoring Butchertown as Louisville's meatpacking neighborhood. Many points of interest can be found amid the predominantly brick historic homes, including the Last Chance Saloon, the Oertel Brewery, and the Thomas Edison House Museum. Discover Vernon Lanes, one of the four oldest bowling alleys in the country, which has been in operation since 1886 on Story Avenue.
Some photographs illustrate the immense damage done by floodwaters in 1937 and 1945. Also pictured are a floodwall built as a result of the 1937 flood and interstate co
More…
List Price: $ 21.99
Best Price: $ 10.60 Own it!
Find More Louisville Neighborhood Products
---
You might also like