Louisville's Southern Exposition, 1883-1887: The City of Progress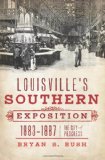 Throughout much of the 1880s, the Southern Exposition showcased the largest-ever single display of agricultural machinery and technical innovation in the United States.
With over 1,500 commercial and mercantile attractions–the likes of which the world had never seen–history was made and innovation discovered in Louisville's Central Park. Some of the most influential figures of the time participated, including Henry Watterson, Merriwether Lewis Clark Jr., A. Bidermann DuPont and President Chester A. Arthur.
Former Louisville resident Thomas Edison personally oversaw the installation of his newly invented incandescent light bulb that lit a record-breaking 4,600 lamps. Author and Louisville historian Bryan S. Bush offers an unprecedented perspective on this fascinating historic event.
More…
List Price: $ 19.99
Best Price: $ 11.23 Own it!
Find More Louisville Neighborhood Products
---
You might also like