The Encyclopedia of Louisville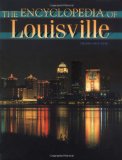 With more than 1,800 entries, The Encyclopedia of Louisville is the ultimate reference for Kentucky's largest city. For more than 125 years, the world's attention has turned to Louisville for the annual running of the Kentucky Derby on the first Saturday in May. Louisville Slugger bats still reign supreme in major league baseball.
The city was also the birthplace of the famed Hot Brown and Benedictine spread, and the cheeseburger made its debut at Kaelin's Restaurant on Newburg Road in 1934. The song "Happy Birthday" had its origins in the Louisville kindergarten class of sisters Mildred Jane Hill and Patty Smith Hill.
Named for King Louis XVI of France in appreciation for his assistance during the Revolutionary War, Louisville was founded by George Rogers Clark in 1778. The city has been home to a number of men and women who changed the face of American history. President Zachary Taylor was reared in surrounding Jefferson County, and two U.S. Supreme Court Justices were from the city pro
More…
List Price: $ 49.95
Best Price: $ 31.00 Own it!
Find More Louisville Kentucky Products
---
You might also like