The Incredible Inman's Louisville Trivia Challenge!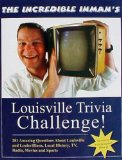 You never knew Louisville was so well-connected! Trivia fans will delight in this extensive book of fill-in, matching and multiple-choice quizzes that dig into Louisville's history and its connections to television, literature, music, movies and sports — from Elvis Presley's relatives to the Rocky and Bullwinkle cartoon series to Diane Sawyer's first TV news job. There are 27 quizzes in all, with 281 questions that will be sure to stump you, entertain you and give you plenty of interesting anecdotes about the city, its people and its institutions.About the Author:David Inman is perhaps better known as The Incredible Inman by the millions of people who read his syndicated newspaper columns on television and movie trivia every week. Along with Louisville Trivia Challenge!, Inman has also authored Randy, Cactus, Uncle Ed and the Golden Age of Louisville Television (Butler Books, 2002).
More…
List Price: $ 19.95
Best Price: $ 11.36 Own it!
---
You might also like