This is Home Now: Kentucky's Holocaust Survivors Speak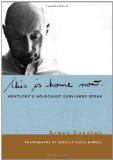 The term "Holocaust survivors" is often associated with Jewish communities in New York City or along Florida's Gold Coast. Traditionally, tales of America's Holocaust survivors, in both individual and cultural histories, have focused on places where people fleeing from Nazi atrocities congregated in large numbers for comfort and community following World War II.
Yet not all Jewish refugees chose to settle in heavily populated areas of the United States. In This Is Home Now: Kentucky's Holocaust Survivors Speak, oral historian Arwen Donahue and photographer Rebecca Gayle Howell focus on overlooked stories that unfold in the aftermath of the Holocaust. They present the accounts of Jewish survivors who resettled not in major metropolitan areas but in southern, often rural, communities.
Many of the survivors in these smaller communities did not even seek out the few fellow Jewish residents already there. Donahue transcribes the accounts as she heard them, keeping true to the voices of thos
More…
List Price: $ 40.00
Best Price: $ 33.85 Own it!
Find More Louisville Kentucky Products
---
You might also like