Kentucky Bourbon Whiskey: An American Heritage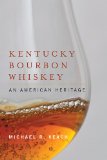 On May 4, 1964, Congress designated bourbon as a distinctive product of the United States, and it remains the only spirit produced in this country to enjoy such protection. Its history stretches back almost to the founding of the nation and includes many colorful characters, both well known and obscure, from the hatchet-wielding prohibitionist Carry Nation to George Garvin Brown, who in 1872 created Old Forester, the first bourbon to be sold only by the bottle. Although obscured by myth, the history of bourbon reflects the history of our nation. Historian Michael R. Veach reveals the true story of bourbon in Kentucky Bourbon Whiskey. Starting with the Whiskey Rebellion of the 1790s, he traces the history of this unique beverage through the Industrial Revolution, the Civil War, Prohibition, the Great Depression, and up to the present. Veach explores aspects of bourbon that have been ignored by others, including the technology behind its production, the effects of the Pure Food and Drug
More…
List Price: $ 24.95
Best Price: $ 17.57 Own it!
Think of Kentucky and several images come to mind: sports, bluegrass, Churchill Downs, and yes, bourbon. There is a sobering reality in that bourbon has made the greatest impact among those industries that best symbolize the state. Kentucky bourbon is distinguished from others for its secret family recipes, limestone-filtered water, climate, and of course, Kentuckians' work ethics and pride. No matter if your preference is Maker's Mark or Jim Bean, or whether you use it for sipping, dipping, cooking, or curing, Bourbon: The Evolution of Kentucky Whisky contains a history of bourbon from its earliest days in the state to modern times, and the most comprehensive list of those companies known as world leaders in the bourbon industry. 
More…
List Price: $ 19.95
Best Price: $ 13.74 Own it!
---
You might also like